Sherwood Family Medical Center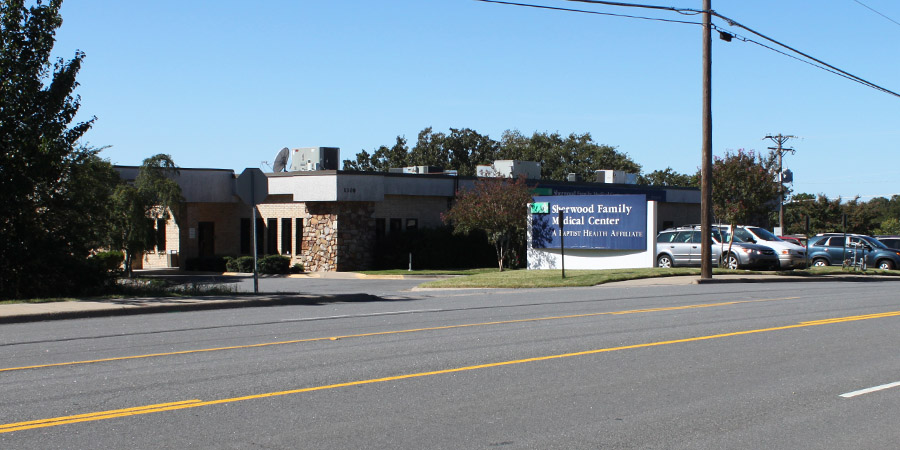 Location
1308 East Kiehl Avenue
Sherwood, AR 72120
United States
Sherwood Family Medical Center-A Baptist Health Affiliate is a comprehensive clinic that strives to provide modern, convenient and efficient health care to all patients from birth to old age. We provide all services with dignity and a serving heart. We are constantly improving and changing as treatments and information is updated. We are conveniently located on Kiehl Avenue near That.Church and about a mile from highways 167 and 107.
We offer our patients a drop-off canopy so they can let children (with a parent please) and the elderly off at the door out of the wind and rain. Once inside our Office Reps greet the patients and begin the check in process. If the patient has already checked in through MyChart, the nurses are notified that the patients have arrived. Patients rarely wait in the lobby more than 10 minutes and most barely have time to get situated and pick up a magazine.
The nurses call the patients back and obtain their vital signs and ask a few routine questions before settling the patients into our exam rooms. Many of the rooms are equipped with medical information monitors which allow you to look up medical information while you wait. All the rooms are personalized to the providers taste and offer interest. The providers are kind, courteous and attentive to your medical needs. They explain the processes in detail. When patients need extra help they are introduced to our Care Coordinators or Staff Pharmacist who work with you to develop a plan to meet your health goals. As you leave your visit you may schedule your follow up appointment and request an after visit summary which lets you know what was discussed and any new medications you may have been prescribed.
Lab and x-ray are also provided on-site and staffed with efficient, courteous staff that continue to explain what is taking place and why. Lab results and your visit summary are available on MyChart along with an interactive "email" feature that allows you to communicate with your provider's nurse during regular business hours. Prescriptions are sent to us through your pharmacy and most are filled automatically. If you require a visit before the prescriptions can be filled, you can reach our schedulers through our manned telephone lines M-F 7:30-5:00pm. After hours we have a call service to address your emergent questions.
Comprehensive Services
Adult Wellness Exams
Allergy Testing
Dermatological Procedures
Family Medicine
Imaging
Immunizations
Laboratory Testing
Pediatric Care
Senior Health