Find the care you need to keep you and your family amazing at a Baptist Health family clinic near you.
Request an Appointment Online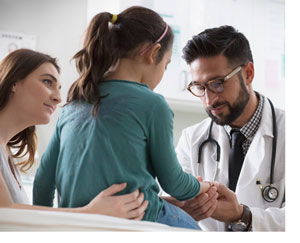 Sometimes accidents, illnesses and injuries are unavoidable. Let Baptist Health take care of you and your family for unexpected events or for routine checkups. We're here for you, from colds, coughs, allergies and sprains to vaccinations and sports physicals. Our network of primary care providers (PCPs) is here to make sure you're staying healthy and well. If you don't have a PCP you trust your health to, there's a great provider located at a nearby Baptist Health clinic. A Baptist Health PCP takes care of you for all matters concerning your health. They work to get you back on your feet when you're feeling sick and are always an aid to keep you well. A primary care provider offers a range of medical services and offerings to treat:
Fever
Coughs
Headaches
Allergies
Cold/Flu
Abdominal Pain
And more!
A relationship with a primary care provider establishes "continuity of care," which means that this person serves as your health advisor. Having a provider that knows you, your health needs, your health goals and your personal and family health history is important. As you age and grow, the relationship you develop with your primary care provider is certain to lead to better health in the future.
Baptist Health has a primary care clinic conveniently located near you. When you or your family need care, you can count on a Baptist Health PCP to help keep you amazing.
---
Call 1.888.227.8478 to find a Baptist Health provider near you or to schedule an appointment.